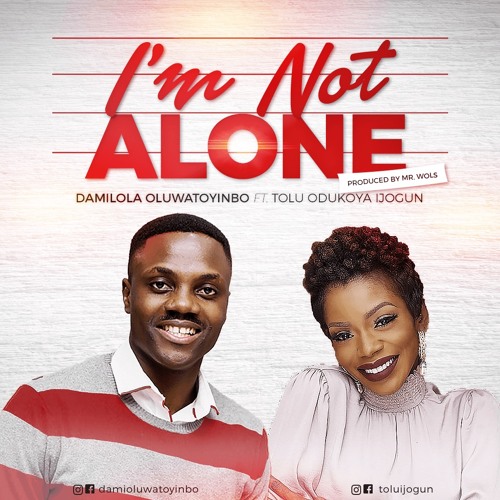 A sensational Nigerian preacher and recording artiste, Damilola Oluwatoyinbo releases his debut album "I'm Not Alone," available today on digital platforms. The 10-track project features guest appearances from Tolu Odunkoya-Ijogun, Faith Akano-Akpan, Moyege, Toju Oluwatoyinbo, and Dami Funso.
Sharing and narrating the inspiration behind the album, Damilola shares; "I felt alone one night. It was 2018, and I was right in the middle of so many responsibilities. I had just planted a church the previous year and was pouring in a lot of resources into it – spiritual, mental, emotional, financial, and material resources."
Continues "In this same season, with my first son only 18 months old, my wife was pregnant with our second son. We were in a planting season. We were giving more than we were receiving, ploughing the ground and sowing seeds."
"Yet at that same time, some of our friends and acquaintances, who we felt would be available to cheer us on, were conspicuously absent and emotionally distant."
"In fact, some reportedly made uncomplimentary remarks in certain quarters, and they couldn't outrightly deny those statements when I confronted them."
"As I prayed one night in our kitchen – pouring my heart to God and talking to Him as a friend, waves of inspiration began to pour as melody into my heart," Oluwatoyinbo reveals, "I mused, meditated, and kept writing these sounds till it was a full song and that was the seed for this album.
Damilola Oluwatoyinbo's "I'm Not Alone" [LYRICS]

VERSE 1
I'm not alone
I'm not alone
The Greater One lives
Inside of me
No matter the storms
This life may bring
I'm not alone
(Say this to yourself right now)
I'm not alone
Yea
I'm not alone
The Greater One lives
Inside of me
No matter the storms
This life may bring
I'm not alone
(And whenever you feel lonely or sad
Sing these words)
REFRAIN
I'm not alone
I'm not alone
He's standing by
God is standing me
I'm not alone
I'm not alone
God is standing by
He's standing by me
I'm not alone
I'm not alone
He's standing by
God is standing me
I'm not alone
I'm not alone
God is standing by
He's standing by me
VERSE 2
I'm not alone
I'm not alone
Your favour surrounds me
Like a shield
No matter the pain
or hurt I feel
I'm not alone
REFRAIN
I'm not alone
I'm not alone
He's standing by
God is standing by me
I'm not alone
I'm not alone
God is standing by me
I'm not alone
I'm not alone
He's standing by
God is standing by me
I'm not alone
I'm not alone
God is standing by
He's standing by me
BRIDGE
I'm not aloooooooooooooone
I'm not aloooooooooooooone
I feel you near me
I know you hear me when I call right now
I'm not aloooooooooooooone
I'm not aloooooooooooooone
I see you near me
You live inside me so I call right now
I'm not aloooooooooooooone
I'm not aloooooooooooooone
(Now say this to somebody)
You're not aloooooooooooooone
You're not aloooooooooooooone
Ooooooohhhhhhhhhhhh
CHORUS OUTRO
You're not alone
You're not alone
The Greater One lives
Inside of you
No matter the storms
This life may bring
You're not alone