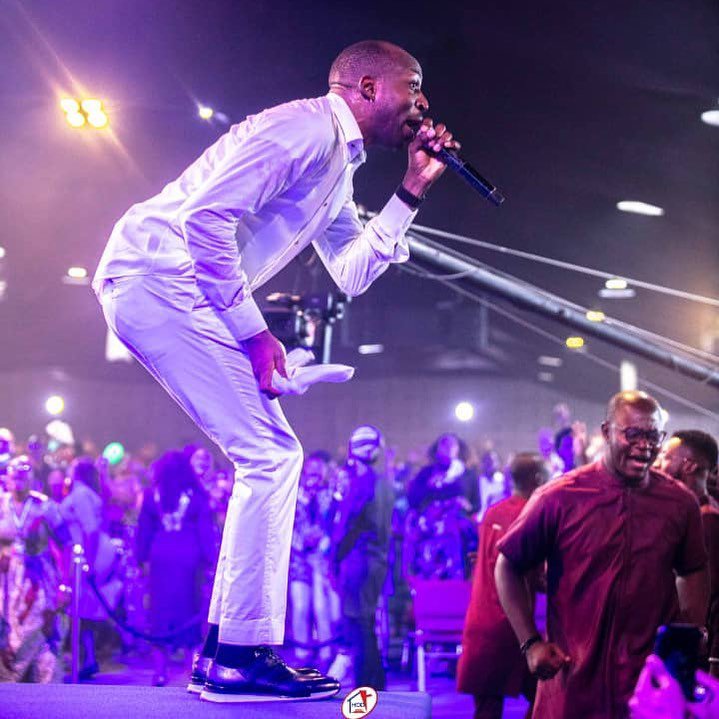 Dunsin Oyekan offers incredible live performance of Who Is on The Lord's Side featuring Mercy Chinwo Blessed off his latest project dubbed "The Birth of Revival"
Hot off the heels of his latest album "The Birth of Revival," Dunsin Oyekan has released the official live video for "Who is on the Lord's Side," one of the highlight tracks from the new project. The Nigerian psalmist teamed up with powerhouse gospel singer, Mercy Chinwo, who brought extra energy to the electrifying new anthem.
Speaking about the song, Dunsin said; "This is a loud declaration, This is a cry of victory, This is a firm stance in the spirit. We are staking our claim, There is no other side to be on, The Lord's side is where we are firmly at The winning side!"
"When you are on the battlefield, let Judah go up first, the side of praise, that's the Lord's side." He added.
LYRICS "Who Is On The Lord's Side"

(feat. Mercy Chinwo)
Forever and ever
Our God You are Good
Forever and ever
Our God You are Good

Forever and ever
Our God You are Good
Forever and ever
Our God You are Good

Forever and ever
Our God You are Good
Forever and ever
Our God You are Good

Who is on the Lord's side
(I am on the Lord's side)
Are you on the Lord's side
(I am on the Lord's side)
As we raise our voice in praise
The enemies will Bow

Who is on the Lord's side
(I am on the Lord's side)
Are you on the Lord's side
(I am on the Lord's side)
As we Raise to God today
The enemies will Bow

Who is on the Lord's side
(I am on the Lord's side)
Are you on the Lord's side
(I am on the Lord's side)
As we Raise the Scepter of Judah
The enemies will Bow

Who is on the Lord's side
(I am on the Lord's side)
Are you on the Lord's side
(I am on the Lord's side)
As we Raise our Voice to Praise
The enemies will Bow

Forever and ever
Our God You are Good
Forever and ever
Our God You are Good

Forever and ever
Our God You are Good
Forever and ever
Our God You are Good

Forever and ever
Our God You are Good
Forever and ever
Our God You are Good

Who is on the Lord's side
(I am on the Lord's side)
Are you on the Lord's side
(I am on the Lord's side)
As we Raise our Praise today
The enemies will Bow

Who is on the Lord's side
(I am on the Lord's side)
Are you on the Lord's side
(I am on the Lord's side)
As we Raise a Shout
The enemies will Bow

Who is on the Lord's side
(I am on the Lord's side)
Are you on the Lord's side
(I am on the Lord's side)
As we raise our voice in praise
The enemies will Bow

Who is on the Lord's side
(I am on the Lord's side)
Are you on the Lord's side
(I am on the Lord's side)
As we Raise Judah Today
The enemies will Bow

Forever and ever
Our God You are Good
Forever and ever
Our God You are Good

Forever and ever
Our God You are Good
Forever and ever
Our God You are Good

Forever and ever
Our God You are Good
Forever and ever
Our God You are Good

Who is on the Lord's side
(I am on the Lord's side)
Are you on the Lord's side
(I am on the Lord's side)
As we Raise our Praise Today
The enemies will Bow

Who is on the Lord's side
(I am on the Lord's side)
Are you on the Lord's side
(I am on the Lord's side)
As we Raise our Praise, Raise our Praise
The enemies will Bow

Who is on the Lord's side
(I am on the Lord's side)
Are you on the Lord's side
(I am on the Lord's side)
As we Raise our Praise, Raise our Praise
The enemies will Bow

Who is on the Lord's side
(I am on the Lord's side)
Are you on the Lord's side
(I am on the Lord's side)
As we Raise Judah over Nigeria
The enemies will Bow

Forever and ever
Our God You are Good
Forever and ever
Our God You are Good

Forever and ever
Our God You are Good
Forever and ever
Our God You are Good

Forever and ever
Our God You are Good
Forever and ever
Our God You are Good

Who is on the Lord's side
(I am on the Lord's side)
Are you on the Lord's side
(I am on the Lord's side)
As we Raise our Praise, our Praise
The enemies will Bow

Who is on the Lord's side
(I am on the Lord's side)
Are you on the Lord's side
(I am on the Lord's side)
As we Raise a Shout
The enemies will Bow

Who is on the Lord's side
(I am on the Lord's side)
Are you on the Lord's side
(I am on the Lord's side)
As we Raise a Dance, dance
The enemies will Bow

Who is on the Lord's side
(I am on the Lord's side)
Are you on the Lord's side
(I am on the Lord's side)
As we Raise our Praise
The enemies will Bow

Forever and ever
Our God You are Good
Forever and ever
Our God You are Good

Forever and ever
Our God You are Good
Forever and ever
Our God You are Good

Who is on the Lord's side
(I am on the Lord's side)
Are you on the Lord's side
(I am on the Lord's side)
As we Raise Judah Today
The enemies will Bow

Who is on the Lord's side
(I am on the Lord's side)
Are you on the Lord's side
(I am on the Lord's side)
As we Raise a Banner of Praise
The enemies will Bow

Who is on the Lord's side
(I am on the Lord's side)
Are you on the Lord's side
(I am on the Lord's side)
As we Raise our Praise
The enemies will Bow

Who is on the Lord's side
(I am on the Lord's side)
Are you on the Lord's side
(I am on the Lord's side)
As we Raise a Shout
The enemies will Bow

Who is on the Lord's side
(I am on the Lord's side)
Are you on the Lord's side
(I am on the Lord's side)
As we Raise Judah Today
The enemies will Bow

Who is on the Lord's side
(I am on the Lord's side)
Are you on the Lord's side
(I am on the Lord's side)
As we Raise our Voice to Praise
The enemies will Bow

Forever and ever
Our God You are Good
Forever and ever
Our God You are Good

Forever and ever
Our God You are Good
Forever and ever
Our God You are Good

Forever and ever
Our God You are Good
Forever and ever
Our God You are Good

Forever and ever
Our God You are Good
Forever and ever
Our God You are Good

Forever and ever
Our God You are Good
Forever and ever
Our God You are Good

Forever and ever
Our God You are Good
Forever and ever
Our God You are Good